IDDS D'Kar, Botswana: Livelihoods in the Kalahari
blog
Friday, September 4, 2015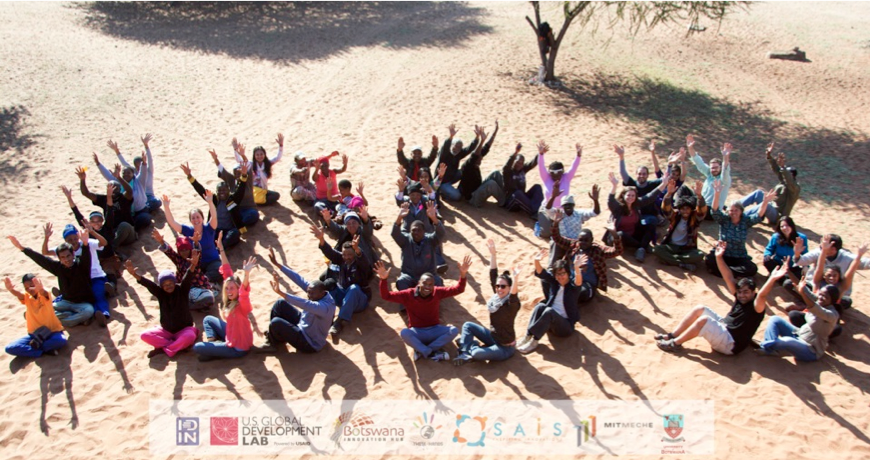 It's already been almost three weeks since participants of IDDS D'Kar parted ways, but the projects and relationships initiated at the design summit are just beginning. What was expected to be a mostly international summit became almost half local, as the enthusiasm and commitment from San community members in D'kar resulted in 15 local participants joining the group. The 20 remaining participants came from elsewhere in Botswana, Brazil, Bangladesh, South Africa, Zambia, Uganda, Tanzania, Pakistan, Guinea, India, and the United States. As teams worked through the challenges of translation between English, Setswana, Naro, and French, they built a strong community through shared goals, challenges, and lots of laughter.
This two-week IDDS was very different from this summer's other two summits, as it took place entirely within the community and focused on improving desert livelihoods, with six projects addressing different issues of agriculture, the arts, and plastic waste. The San are a very artistic, creative, and hardworking group, and their participation made the summit much stronger and created space for continuity in D'kar. Another summit will be held in Botswana in 2016, building on the strong foundation created here, as well as starting new projects and relationships.   
To learn about the projects from IDDS D'kar 2015, read the descriptions below:
Fodder Chopper (Tcegane Qoane)
Across Botswana, cattle die of starvation each winter. Crop waste is available but not used because cattle cannot eat uncut stalks. The Fodder Chopper was developed by a diverse team of international and local participants with additional input from D'Kar residents. The prototype is made of welded metal, strong enough to chop several stalks at a time with one just person using it. Stalks are laid in a tray and come out on a large sheet for collection. Power is provided by hand, but an electric motor option will be available. With a target price is 1,500 Pula (US$150), it is affordable as a small business or shared device.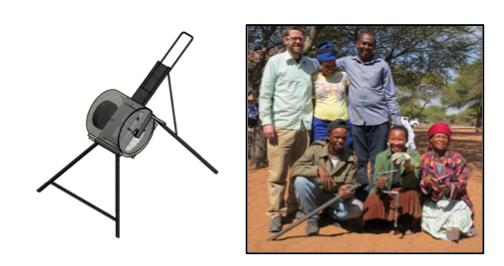 Precision Planter (Xh'ara hii ba)
The current process for ploughing is labor intensive and not environmentally sustainable, and the cost of the plough is no longer subsidized by the government. There is a movement towards conservation farming in order to efficiently use resources and protect the health of the soil. The Precision Planter is affordable, less labor intensive and promotes conservation farming. It consists of a handle, hoppers, a vertical pipe, and a hatch/tip at the end. The user walks while jabbing the planter into the soil with each step, dispensing seed and fertilizer at the appropriate depth. With each jab, the appropriate quantity of seed and fertilizer is released into the soil.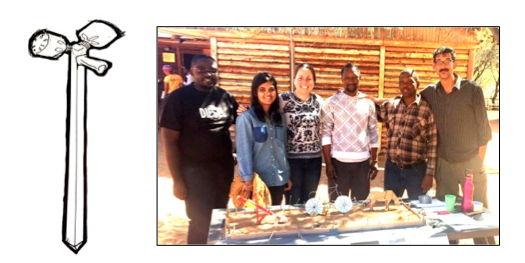 Crop Protection (Dao Ba Qaa)
Cultivation has only recently been introduced to the people of D'Kar. Since the practice is not culturally embedded into their past livelihood of hunting and gathering, it has proven to be a challenge. One of the challenges faced by farmers is weed infestation in their fields. Currently, San farmers weed by hand, as hoes are said to be too expensive.  Two prototypes were developed to make weeding easier:
The Stirrup Hoe is a low cost, lightweight hoe with a handle that can be adjusted according the user's height and need. Commercially manufactured stirrup hoes are not available on the local market, and this one uses locally available materials.
The Weed Roller allows the user to weed while in an upright position. It can roll over a large area of weeds with a single roll, thereby reducing the time spent as compared with other alternatives. It is a drum-like object with spikes that lift up the weeds as it is rolled over them and is very effective in row-planted fields.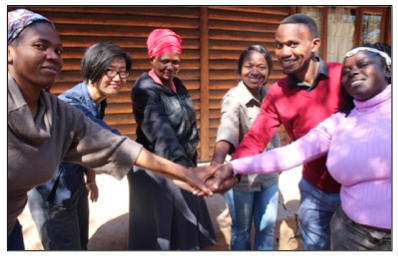 Plastic Waste (Kuru Kabi)
Plastic beverage bottles are a common waste product in D'Kar. By transforming plastic bottles into strips for weaving, they could have the ability to create a variety of products of value for their homes, families and community. Potential uses of this woven material include making household items and products for sale.
This team created a machine that generates plastic strips from waste plastic bottles. These strips are the main component of their weaving method, with the intention of using this method to create multipurpose containers. The D'Kar community expressed a need for such products, including laundry hampers, food containers, wardrobe organizers, dish racks and gift boxes.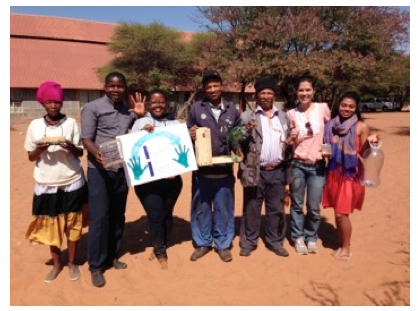 Cultural Preservation Through ICT (Xgoe)
Arts and crafts are an important part of sharing and preserving the San culture, as well as a method of income generation. However, a saturated market leading to low sales is a threat to this sector's existence. An ICT-based solution can provide access to a wider market for San arts and crafts, leading to higher income and therefore providing incentives for preserving the aspect of culture.
This team's platform is an online marketplace for San arts and crafts. Imagine a place where you can find handmade crafts, jewelry, paintings and clothing made out of ostrich egg shells, glass beads as well as a range of other natural materials by San craftsmen and women. This ICT-based solution can facilitate hundreds of San Artists in the Kalahari area to make their arts and crafts available through online stores such as Etsy and receive payments locally.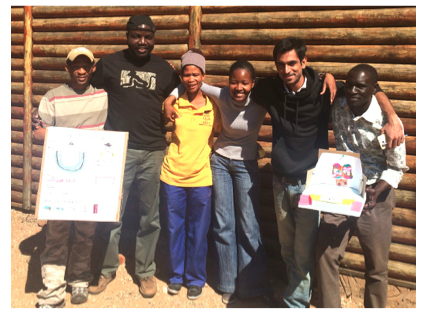 Ostrich Eggshell Beads (HaaBoo!)
For generations, making jewelry from ostrich eggshells has been an important income generation activity for San women. Making beads and jewelry from ostrich eggshells is a long and tedious process. In addition to being labor intensive, the process causes the worker hand, leg and especially back pain. Finally, many beads are broken throughout the production steps. Through both process and tool innovation, this project aims to reduce the burden and increase the efficiency of making ostrich shell jewelry.
The team has shortened the ostrich bead making process primarily through the use of a manual hand drill. The drill allows a 120% improvement in the time it takes to drill the bead's center hole. Using the drill with a hook fixed as a bit allows faster twisting of the plastic used to make twine for bead stringing and eliminates the skin burn caused by the previous twisting method.  They also further exploring the creation of a device that will allow simultaneous sanding of multiple strings of beads and a drill bit that would cut both the bead's circular shape and center hole in one step.