IDDS Zero Waste Project Reports Are Now Available!
blog
Wednesday, August 5, 2015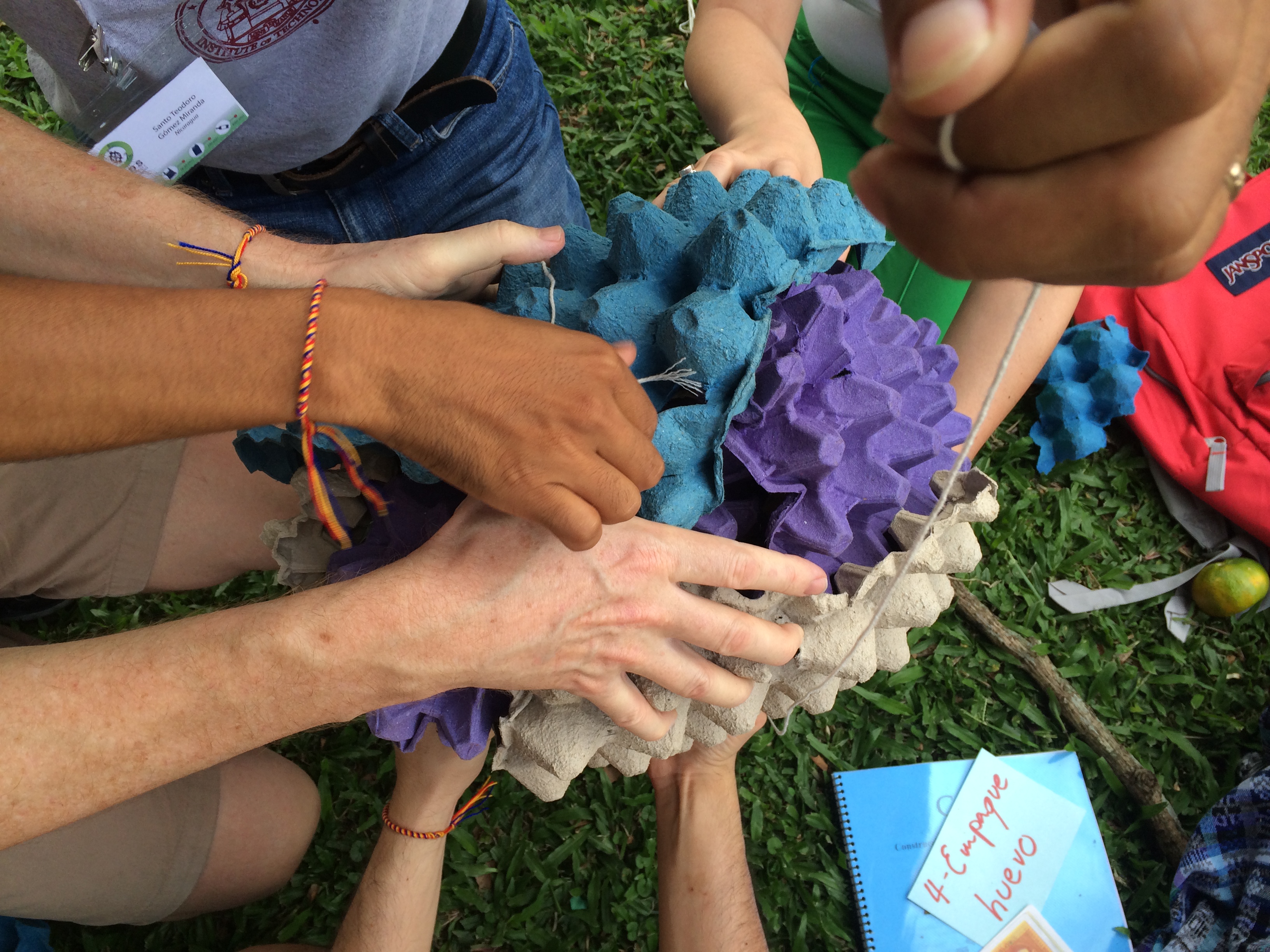 Today marks just over one month since the IDDS Zero Waste summit came to a close in Cali, Colombia at the end of June and all the project reports are now available online!
During the two week summit, 39 participants gathered from all over Latin America to learn about the design cycle and waste management systems. The participant mix included waste pickers, designers, engineers, professors, government workers, students, and entrepreneurs. Together, they worked on six different projects focused on improving livelihoods around the theme of zero waste. Below is brief overview of each of the projects. You can read each of the IDDS Zero Waste project reports by searching in the IDIN Resource Library or clicking one of the links below.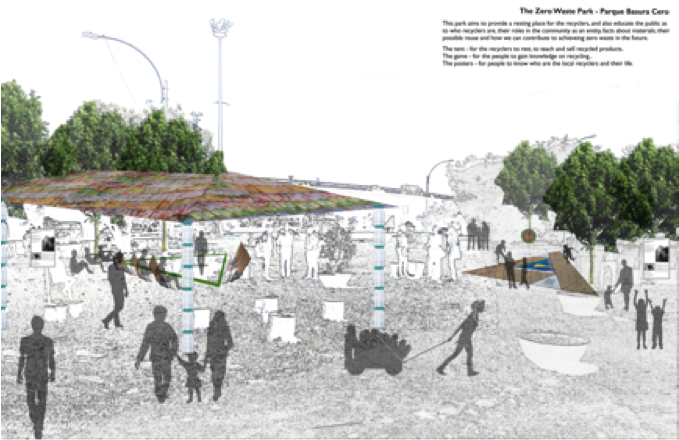 Zero Waste Park
IDDS participants and community members designed a plan for an aesthetically pleasing public space to change the image of waste (as a resource and not as a problem) and waste-pickers. The space will be a place for waste-pickers to rest and get some shade, with furniture and installations all made from recycled materials, as well as raising awareness through waste-picker biographies and its "Super-recycler" game (which includes profiles of each recyclable material). Read more about the Zero Waste Park idea here.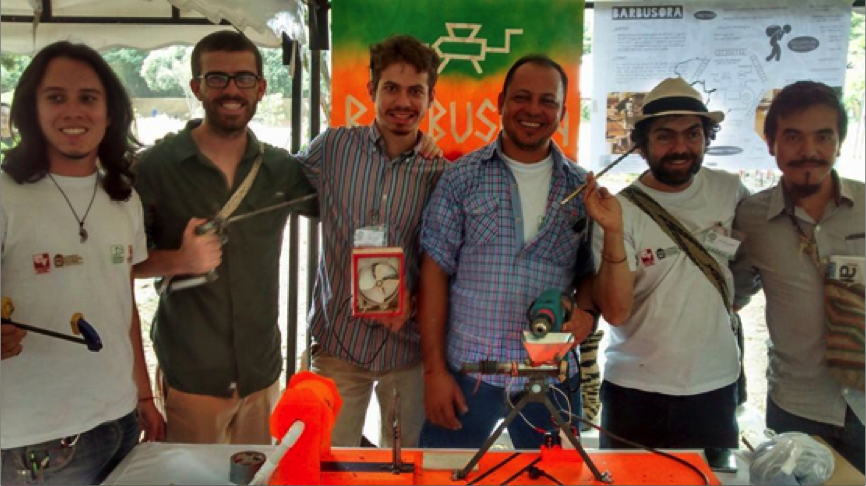 Plastic Extruder
Barbusora is a low cost 3-D printing filament extruder aimed to increase the value of plastic for waste pickers.  It transforms collected plastic into a higher value plastic. Collected plastic is sold by waste pickers at a low cost ($500 Colombian pesos kg), and some types plastic that could be used in 3-D printing aren't collected because there is no current market. Plastic aimed for 3-D printing is sold at a high price ($130'000 Colombian pesos kg) and imported mainly from China. Barbusora transforms collected plastic into 3-D printing filament that waste pickers could sell at a higher price, reducing the amount of plastic being imported and providing a new product for waste pickers to sell. Read more about the Plastic Extruder prototype here.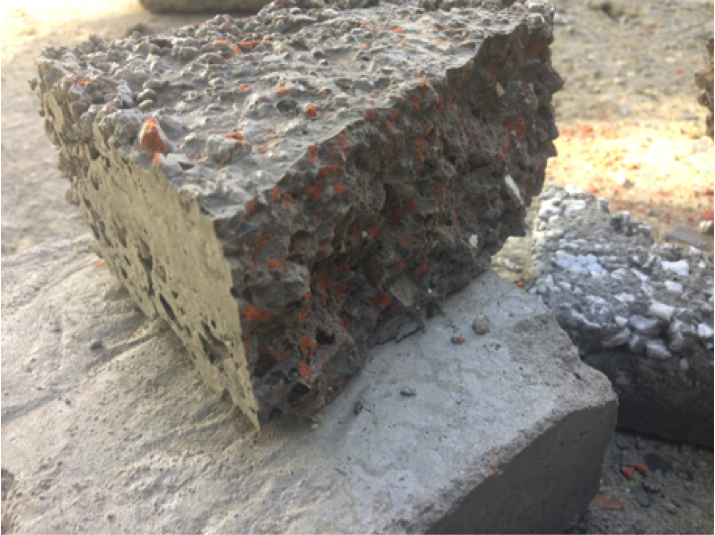 Reusing Rubble
Building materials can be made from paper, cardboard, plastic, rubble, and other recyclables. This team experimented with different mixtures of these materials to find the combination that could produce bricks with the highest durability at the lowest cost, while recycling waste. Construction waste is plentiful in and around Cali, so resources like crumbled brick and concrete are easy to obtain and just waiting to be transformed into something useful. Read more about the Reusing Rubble project here.
Rex-cicleitor: A New Way to Transport Waste
Recyclers need ways to transport the materials they gather back to collection centers. Some carry everything on their backs, others push rickety carts, and those with a few more resources use horse and buggies. There is a shift happening throughout Colombia to replace horses with small trash trucks, as using horses for this work is now illegal, but issues of financing and lack of follow through are slowing the process. One team created a prototype of an improved cart with several amenities based on user feedback to make recyclers' work easier. Read more about the Rex-cicleitor prototype here.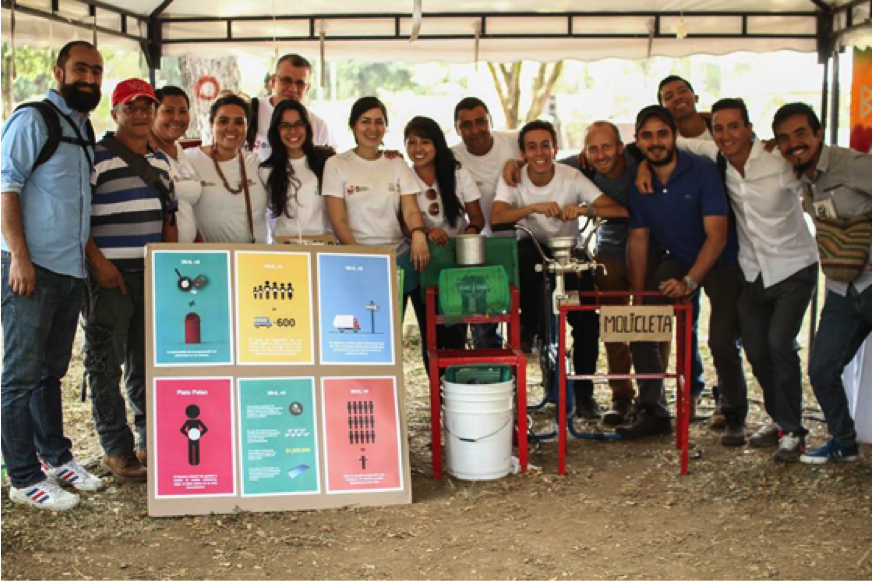 Organic Waste and Compost Education
Two teams combined forces to create a collection of prototypes to deal with organic waste at the household level. Their projects include an educational campaign called "Plato Pelao" ("Clean Your Plate"), and three prototypes: Teodora, Moli and Molicleta. The first is a kitchen helper that facilitates the separation of waste, and the other two are low cost tools (one hand-powered and the other bicycle-powered) to break down organic waste into smaller pieces, which can then expedite the composting process. Read more about the Organic Waste and Compost Education concept here.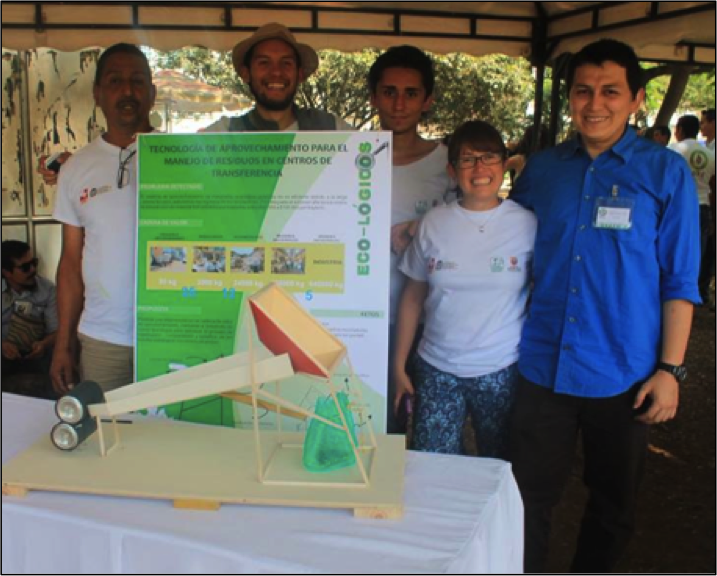 Improved Tech for Waste Management in Transfer Centers
Workers in transfer centers might spend over eight hours a day sorting through plastics, bending over mountains of bottles to separate materials. Seeking to improve systems for better efficiency and comfort, this team designed a ramp for bottles to slide down, with rollers to compact them at the bottom. The worker sits or stands comfortably to separate the compacted bottles. Compacting these bottles is valuable in two aspects: it reduces the volume, making them easier to transport, and is also a value-add, as compacted bottles are bought for a higher price than non-compacted bottles at the next level in the recycling process.  Read more about the Improved Technology for Waste Management in Transfer Centers concept here.
PET Bottle Processor
This team made an information system to implement a new business model, in which associations of recyclers can offer processing companies and interested parties updated, real, and quality information on the type and amount of plastic bottles that are available for purchase.  Read more about the PET Bottle Processor prototype here.
Thanks to all 14 of the organizers who gathered together from across the globe to plan and implement the unique event as well as  to our partners at DAGMA, Universidad de Valle, and Universidad Nacional for an excellent program!  And a special thanks to the Lead Organizer, Pedro Reynolds-Cuellar, who will also be serving as the D-Lab liaison for a variety of follow-up activities in Colombia.
For any questions or ideas, please email the organizing team at idds.waste.cali@mit.edu.