Beyond Developing Technology: Using the Design Process to Develop an Experience
blog
Tuesday, December 5, 2017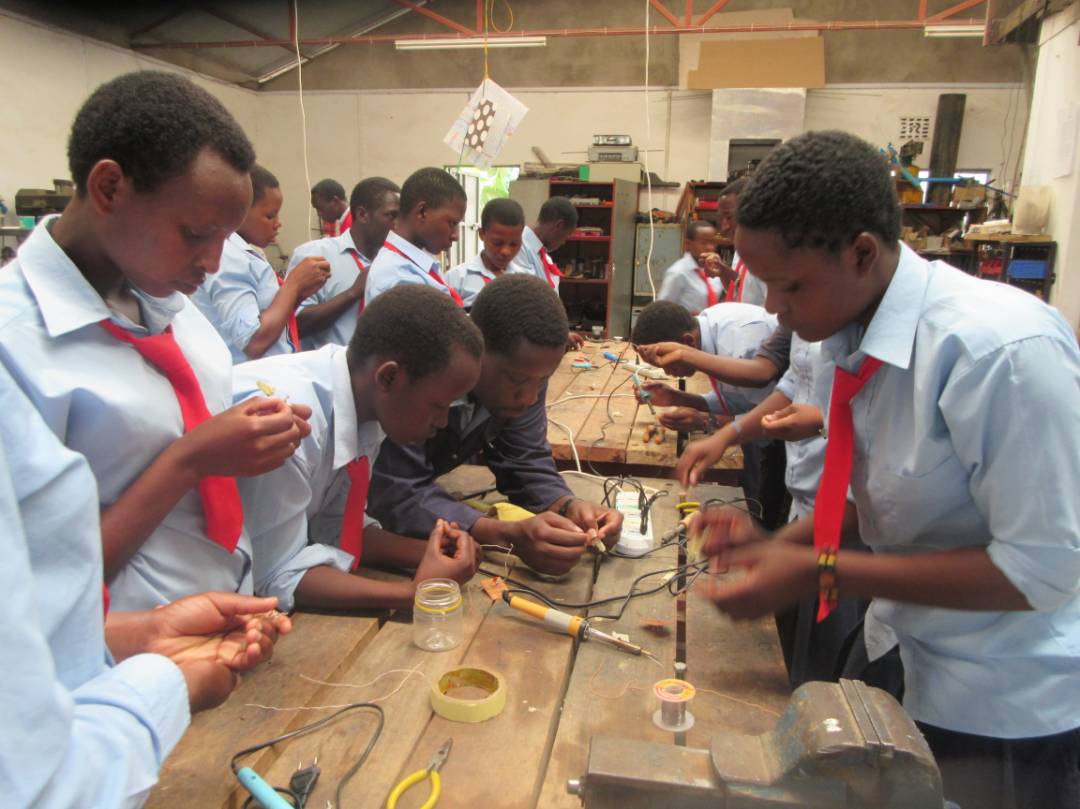 (Unapendelea Kiswahili?  Bonyeza hapa.)
We at Twende have been running hands-on design & creativity workshops for 5+ years with 1,300+ people and the support of IDIN, amongst other amazing partners. Our flagship Creative Capacity Building (CCB) workshop was adapted from a methodology developed at MIT D-Lab, and all participants exclaim how their 'minds are opened' every workshop we run. We love that, and we can see faces light up when they finish the five-day workshop with a prototype in their hands.
But I would be lying if I said we found the magical silver bullet to accomplish our mission: empower people to design & create their own technology solutions to community challenges. After so many workshops, we have taken a critical eye to what we do and identified a big problem: people don't often 'finish' technologies during CCB to the point where they can regularly use it to actually improve their everyday lives.
Never fear, though, we are a team of problem-solvers and designers, so we have used the steps of the Twende design process to come up with a solution to test and get feedback.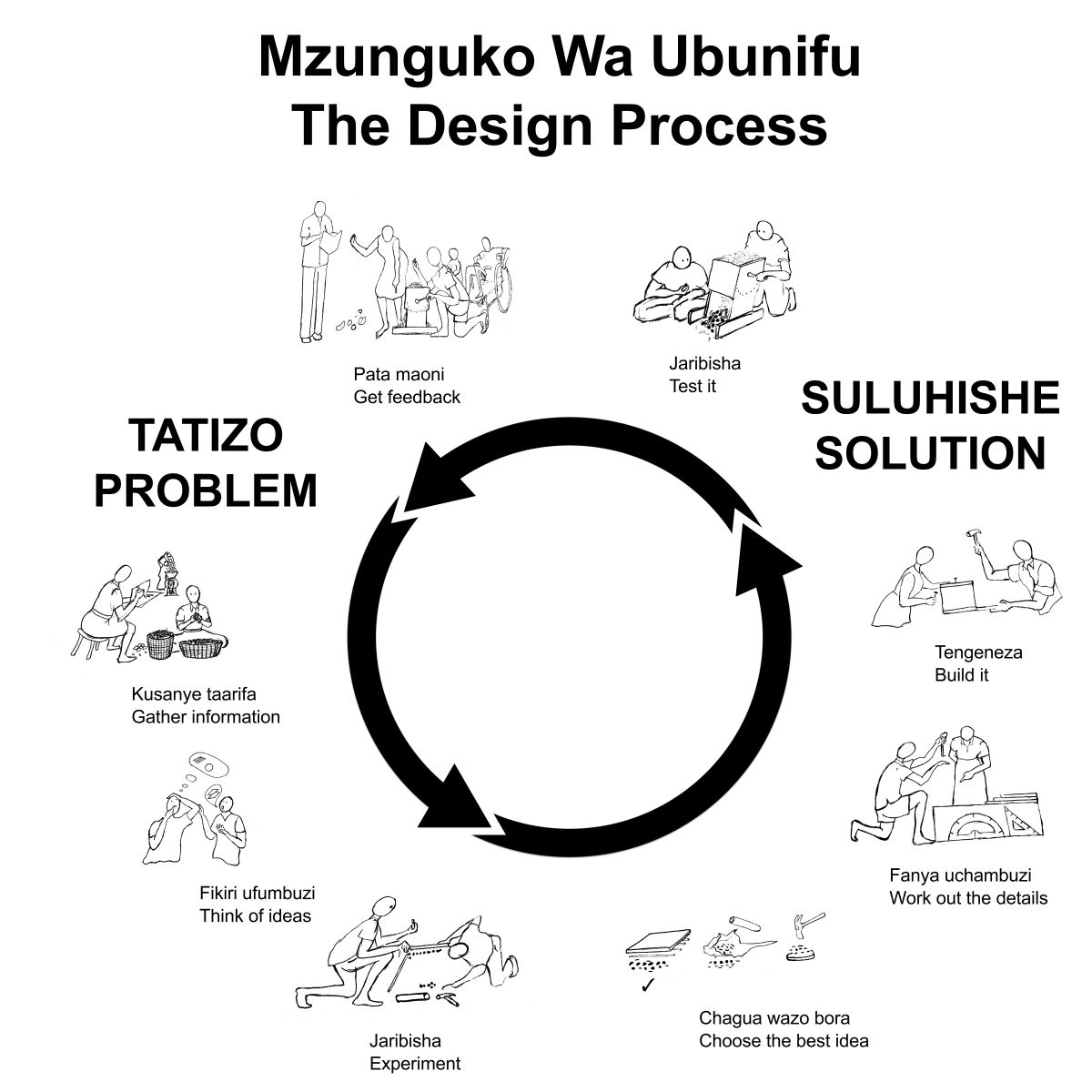 The design process we teach at Twende and throughout IDIN, in both English and Kiswahili
STEP ONE: GATHERING INFORMATION / KUSANYE TAARIFA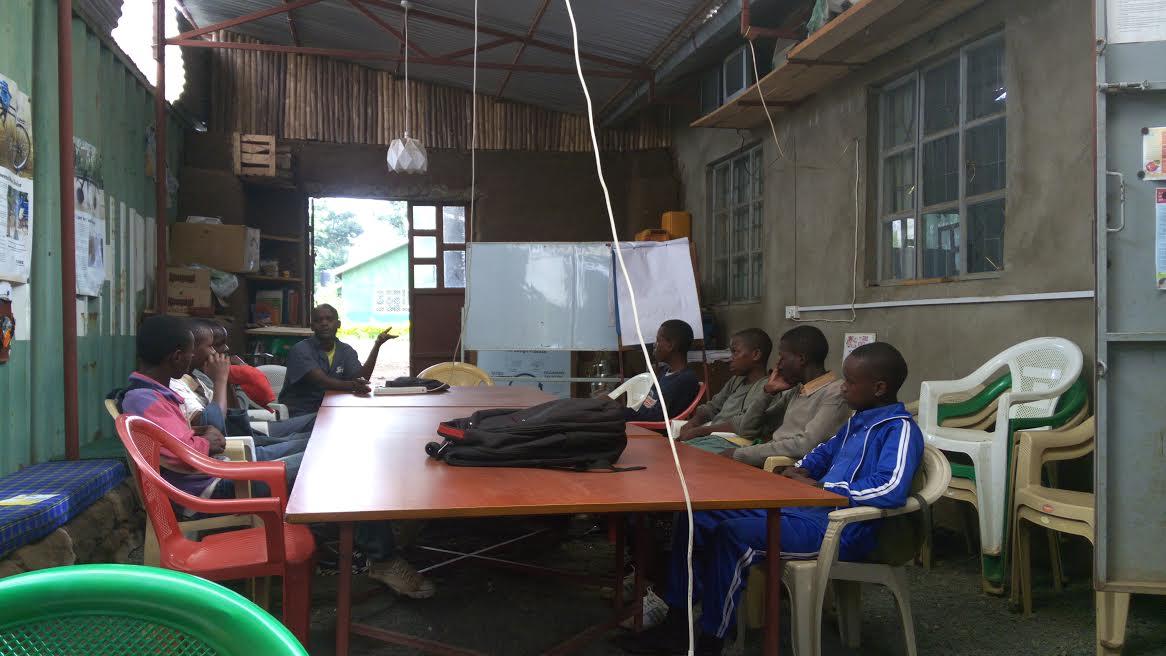 Chris, our Creativity Trainer, gathers information from secondary school students about their challenges during a CCB workshop
When we gathered information about many of the potential innovators we work with, especially the youth, we found that many have trouble prioritizing technology development because they have so many daily time-consuming obligations. They don't have the flexibility to take the risk of spending time on activities that only have a very small, long-term possibility (instead of certainty) to 'pay off.'  We're not even talking about running a profitable business; we're talking about creating a working technology they can actually use enough that the benefits are worth the time and materials invested in said technology.
We confirmed this by asking about the daily lives of people and looking at our own lives here in Arusha. We know that for an average community member or youth, taking a day away from work to attend a training means a loss of wages or an untended field for that day. That can mean the difference between whether or not you eat dinner (because Twende offers lunch) or whether or not your children or younger siblings eat any meals at all (because Twende doesn't offer a 'sitting fee' traditionally offered). Technology development without any interim rewards before the technology works seems like too much sacrifice for many Tanzanians.
STEP TWO: THINK OF IDEAS / FIKIRI UFUMBUZI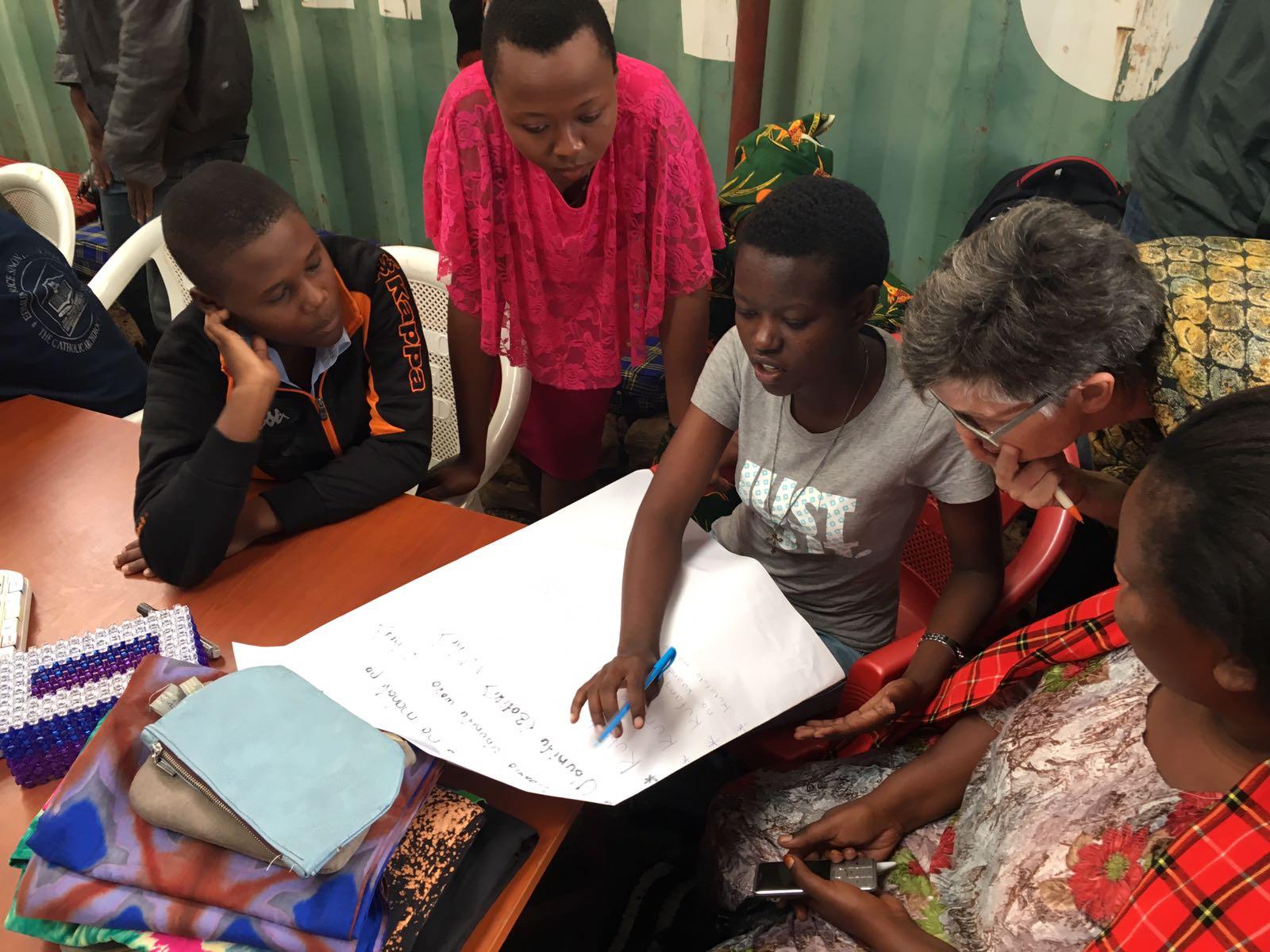 Youth participants discuss their ideas during a Creative Livelihoods Challenge workshop with our past volunteer Business Trainer, Liz.
We started thinking of ideas about how we could incentivize youth in the short-term to prioritize innovating:
Maybe we could fund a full-fledged fellowship for participants to live at Twende?
Maybe we could match youth with buyers who will require the product to be finished?
Maybe we could permit only projects that have high market potential?
Maybe we could run a competition with milestones and rewards?
STEP THREE: EXPERIMENT / JARIBISHA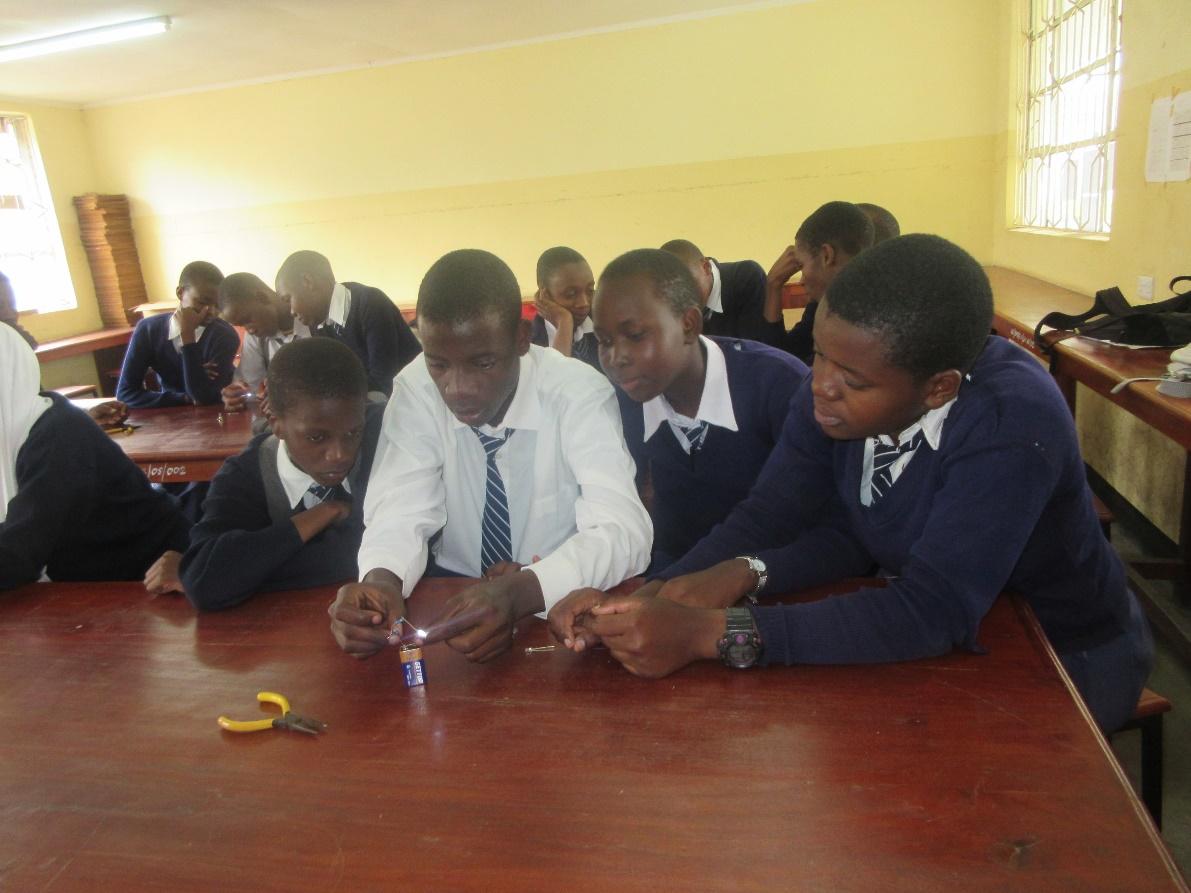 Secondary school students experiment with how LEDs work during our Intro to Circuits STE(A)M Outreach.
So we started experimenting with different ideas by speaking to secondary school teachers, students, and administrators about what would be best. We researched other similar programs and mapped their outcomes and took time to evaluate if that is what we also wanted to achieve. We also looked at the history of our past programs.
We realized a fellowship would be prohibitively expensive for now. We realized matching makers with buyers might mean we preference less inclusive innovations. We realized a focus on market-driven technologies usually means people just use alibaba.com or other international dealers, because that is where the cheapest options are. We realized we need aspiring innovators to spend more time and effort on developing life-improving technologies, regardless of whether or not the user has a lot of disposable cash to buy the product. Ideally, innovators would even work on technologies to improve their own lives. After all, when problems are experienced by the person who makes the solution, we know they are more motivated to create affordable, easy-to-use, and appropriate solutions. But that can be a long path.
STEP FOUR: CHOOSE THE BEST IDEA / CHAGUA WAZO BORA
Thus we chose the idea to create a competition for youth,  in other words, a structure of shorter-term milestones and incentives to motivate people to take more of the needed time and effort to develop technologies closer to use by the intended user. We are offering a small reward equivalent to a year of school fees for a 'winning' technology, and we will pay for transport and meals for the youth participants so their parents will encourage their children to join and risk is reduced for the participants. Participants will be judged on, amongst other criteria, how relevant, desirable, and accessible the idea is for the intended user and how functional the prototype is. We will give far less emphasis on market potential, and we will use all judging and advising as opportunities to provide suggestions for how each participant's technology can be improved to encourage all participants to continue long-term.
STEP FIVE: WORK OUT THE DETAILS / FANYA UCHAMBUZI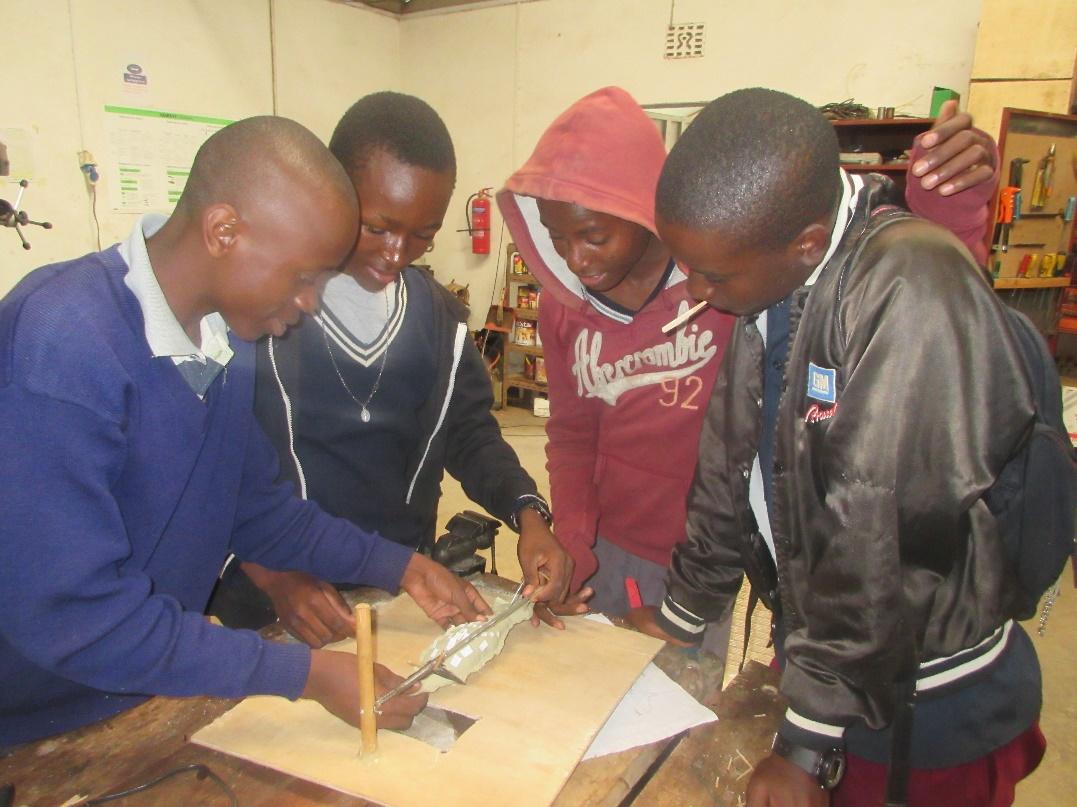 But how many participants should we work with? How old should they be? Where do we find them? How much support should we offer as Twende? How do we keep the judging fair? A small group of us spent hours working out the details to make our overview plan, including a timeline, bespoke programs to support the participants, judging criteria to pick the winner, a monitoring & evaluation framework to see if the effort was worth it, and of course the budget to make this happen.
STEP SIX: BUILD IT / TENGENEZA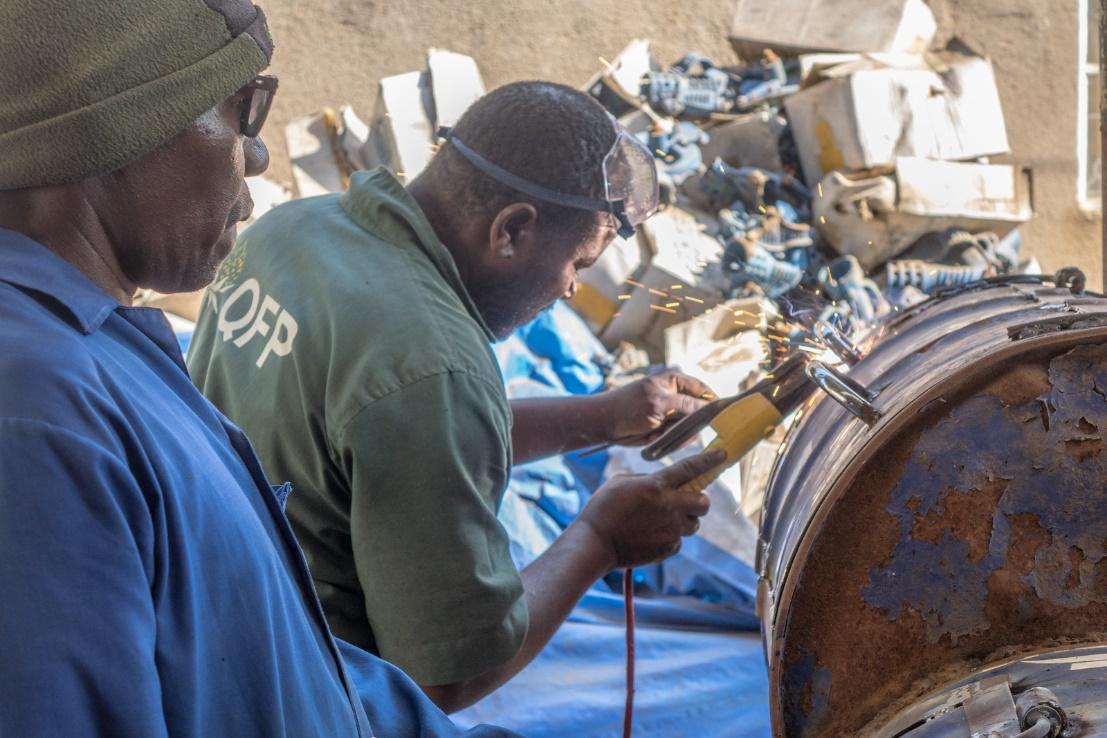 We are building while continuing to work out the finer details, based on what we find out during each stage.
During November, we reached out to 11 local secondary schools to present the idea with small meetings and a simple flyer and application form to Form 4 Leavers, teachers, and administrators. We chose Form 4 Leavers because they have 6 months between their last exam and the first day of Form 5. This gives students enough time to work on our project without compromising the quality of their academic schoolwork and also provides an alternative opportunity for those who are not continuing their formal education.
We set a deadline (16 December), and we are now waiting for the applications. We cannot predict how many applications we will receive, so in the meantime we're working on other parts of the program, such as how we might adapt our classic CCB workshop and who we might invite to our scheduled mid-term motivational panel. We must both plan and remain flexible to the new things we learn.
We are also figuring out funding. As of last week, we started a crowdfunding campaign. We're lucky to be part of a great crowdfunding accelerator run by GlobalGiving, who 'connect nonprofits, donors, and companies in nearly every country around the world.' They 'help local nonprofits access the funding, tools, training, and support they need to become more effective.' We spent about two weeks watching webinars, planning our crowdfunding strategies, and building our campaign, and now, we're actively looking for supporters ☺
STEP SEVEN: TEST IT / JARIBISHA & STEP EIGHT: GET FEEDBACK / PATA MAONI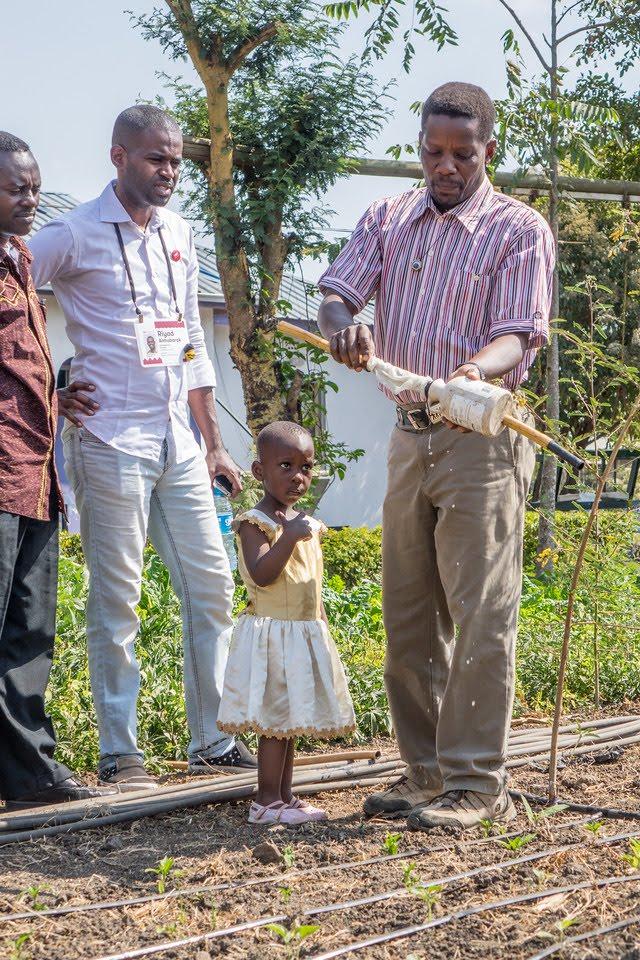 For the next seven months, we'll be testing our solution, provided we can raise enough funding. We'll get feedback from a variety of people who we trust and who trust us, from the students and teachers who are part of the upcoming challenge to the parents who attend the closing ceremony to those who contribute to our crowdfunding campaign. We will synthesize this feedback, add our own perspective on the program based on outcomes and stories, and we will do what any good designer does: go again around the design process to continue improving our solution to our challenge.
Have any suggestions for us to improve our methodology or the Challenge Prize itself? Want to get involved in this Challenge Prize or our work? Keen to stay updated? You can find us on Facebook, Instagram, sign up for our newsletter, and email at twendeinnovation@gmail.com.
Hope to hear from you, and if you want to support our work, please spread the news about our crowdfunding campaign!