Rise Legs: Using Local Knowledge & Materials to Bring a Low-Cost, Quality Prosthetic to India
blog
Wednesday, October 21, 2015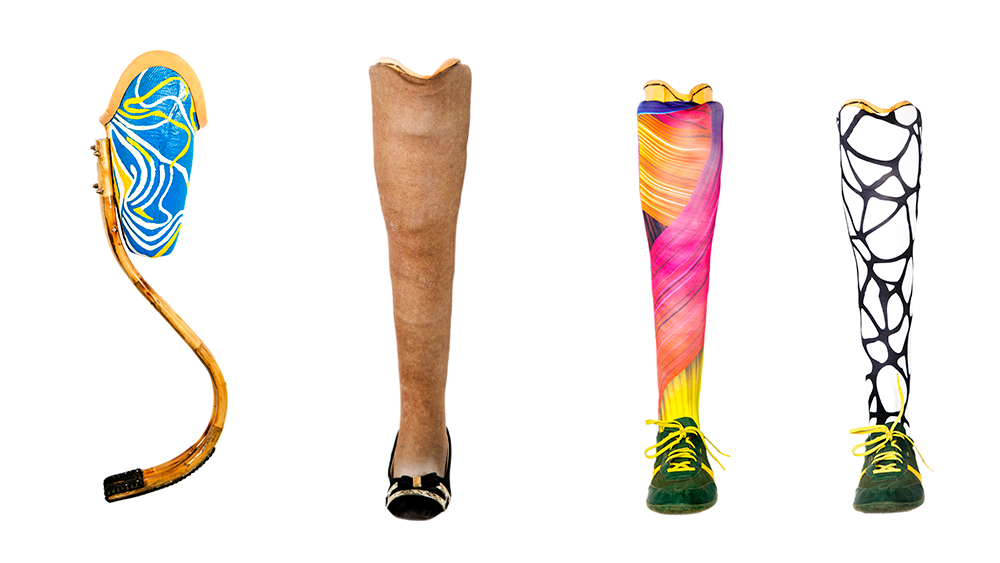 Arun Cherian has always been interested in locomotion, building bio-inspired robots and orthotics as an engineering student at prestigious research universities like Purdue, Berkeley, and Columbia.
But through his work in labs at home in India, and throughout the US, something stuck with Arun: he wasn't being taught to design with end users in mind.
"(During that time,) I learned a lot about how not to design," says Arun, who attended one of our International Development Design Summits in India this summer. "Lots of PhDs sitting around a table thinking through the smartest thing they can add to the product. It's only after we made advanced prototypes that we went to the users. It's a bad way to design. " 
It was when Arun returned home for his sister's wedding that he first pondered a question that would turn out to be a life changing.
"In Kerala, we have cane furniture bent in all of these beautiful ways and it takes a lot of weight. It's basically a spring. Biomechanically, our leg is also a spring of tuned stiffness. In fact, biomechanically, all animals pretty much have the same leg stiffness to body weight ratio. And I wondered if you could make a prosthetic leg of tuned stiffness out of cane," Arun explains. 
At the time of India's 2011 census, around 26.8 million Indians reported living with a disability. Arun points to Bhagwan Mahaveer Viklang Sahayata Samiti (BMVSS), the creators of the Jaipur Foot, as an organization that has done "phenomenal" work to address this enormous challenge. BMVSS provides its products and services, including the Jaipur Foot, to the disabled completely free of charge. But Arun admits, the Jaipur Foot has its downsides: it's often not fitted well and it's heavy, tiring its users out.
"I wanted to create a cost effective leg that was also functionally effective, a good value proposition to the users," Arun says. "One that could allow people to run, play, and dance."
Today, Arun is working hard to turn that idea into a new social venture: Rise Legs.
 Arun recalls his first prototype: a simple proof-of-concept.
"I went to a local cane vendor, and brought some sticks of local cane. I put it on a ledge and had a friend stand on one end, and I tried standing on the other cantilevered end, roughly simulating full body weight on the cane. It held itself together and kept springing back! That was my first proof-of-concept prototype that showed me could actually work as a prosthetic leg."
Next, Arun visited a local artisan to see if the cane could be bent into a specific shape. Together, Arun and the artisan gave the concept a try. They put the cane in water for a few hours, staggered it with nails on a board, and let it sit for 48 hours to dehydrate and set. 
Satisfied with the results, Arun soon returned with more materials to build additional prototypes.
There are a number of qualities that make local cane a suitable material for Arun's purpose. Cane is not a cash crop, so few people outside of the furniture industry use it. Cane is also a creeper, so it grows with a consistent diameter from end to end unlike seemingly similar plants like bamboo and trees that taper from top to bottom, this consistency in diameter makes it a good engineering material. It's also readily available. But Arun emphasizes that it's important to use the right kind of cane. He relied on local knowledge to choose the right kind from the dozens that grow locally. He is now systematically documenting this artisanal knowledge and scientifically testing its veracity.
Arun continued to work on his prototype, testing the cane for proper strength with Professor MR Bhatt at the Department Aerospace Engineering at Indian Institute of Science, where his hypothesis about the strength and elasticity of the material panned out. In the lab, Arun tested various sizes of cane diameters to understand which body weights would match well with a particular configuration of cane. Based on this testing, Arun is in the process of acquiring an ISO 10328 certification for lower extremity prosthesis.
The First Customer
"I was making my prototypes at home, but I didn't want to engineer this thing to the second decimal place without talking to actual stakeholders," Arun says.
So Arun approached the Association of People with Disabilities in Bangalore, asking for feedback on his prototype, and a space to work, hoping to get a chance to share his product with some of the amputees who regularly visited the organization.
That's where Arun first met 20-year-old Madhusudhan H, or Madhu, for short. Madhu had lost both of his legs in a train accident at the age of 13. Before his accident, Madhu loved to run and competed at school in track races with aspirations to become a professional runner.
For the past six years, Madhu needed two crutches to walk. Arun fondly recalls the first few hours that Madhu used his new legs.  Within just a few hours, he was able to walk without the aid of crutches, and within five hours, he was able to kick a soccer ball.
When Arun and Madhu first met, Madhu's prostheses weighed over eight pounds and running was out of the question. After a couple of weeks of training in a pair of Arun's Rise Legs, Madhu is now able to walk over four kilometers without the aid of crutches in prostheses that weigh just over two pounds each.
Madhu was Arun's first customer, and 12 more have followed.
Arun recalls one of his customers—a supervisor in a vineyard, who was skeptical at first about a prosthetic made of cane material. Arun convinced him to give it a try, and as the vineyard supervisor describes it, "Before I'd get tired after three hours of wearing the prosthesis, now I can wear it for over 13 hours a day and work longer. I can kick my foot up over my hip, when before I could barely lift it a foot off the ground."
Another customer, Parveen, was a dancer before she lost both her legs in an accident.  10 months ago, she needed a walker to get around. Now with Rise Legs, she's learning to dance again at the Chrysallis Dance School in Bangalore. She recently walked over three kilometers at the Bangalore marathon with just a single crutch in case she lost a footing.
Taking the Next Steps
Arun continues to add thoughtful touches to his designs, always keeping his customers and their needs in mind. Rise Legs uses washable fabric that can be printed with a skin tone color matched to the user or with crazy color and fun patterns depending on the user's preference.
Arun has also spent time redesigning aspects of the prosthesis for ease of maintenance, and has reduced the time to cosmetically cover the prosthesis from over 45 minutes to less than five minutes.
Madhu's training for the TCS marathon on Rise Legs in May 2015, garnered a lot of press for Arun's work. Rise Legs is undergoing a multi-center clinical trial with St. Johns Hospital and Christian Medical College and Hospital, two prominent hospitals in south India. More than 1,700 inquiries about the products have streamed in from India and around the world.
Now, Arun is looking to build a team. It's one of the primary reasons he attended the International Development Design Summit (IDDS) in Chennai, India this past summer. Arun was a part of the team that created a multifunctional safety harness for children under the age of 12 in India, where road traffic accidents are the second leading cause of death for 5-12 year olds.
"I'm very much in the touch with the IDDS community members as I'm working with two of them and the others have been sharing contacts and knowledge as we routinely meet up every other month. The IDDS community is simply an awesome bunch of folks who've come together and help each other in making a difference in the world around them," Arun says.
A team of students in MIT D-Lab's Design for Scale class is also working closely with Arun to think through how Rise Legs can be produced at scale.
"I'm very much looking forward to their ideas and work.  I can make over a hundred legs a day; though I average about one socket a day, so making sockets is a real bottleneck," Arun explains. "I'm really looking forward to seeing the solutions the team comes up that can solve the challenge, keeping in mind good fit and care."
Arun hopes to fit 100 legs in the next two months and release them in a phased manner so he can check for quality and provide post-fitting service to his customers. To Arun, the service is just as important as the quality of the product itself.
"Without post-fitting care and service, one can argue whether you are doing greater good or disservice to the amputees. I believe it's better for nurturing the technology and building a stronger community of users," he says.
Looking to the future, Arun hopes to scale Rise Legs' operations, fitting 150,000 people per year in India and reaching 100 countries in South America, Africa, and Asia over the next three to five years.
"This requires a paradigm shift in manufacturing, fitting, and quality control processes. We are working toward modularizing the processes and using cost effective, yet intelligent processes to maintain care and quality like using the computational power in smartphones to check for quality, track and quantify build-time and backend logistics."
Interested in learning more about Rise Legs? Contact Arun at arun@riselegs.com or +91 9741030803.