New Updates from Essmart: a creative Kickstarter, market research, and headlamp development
blog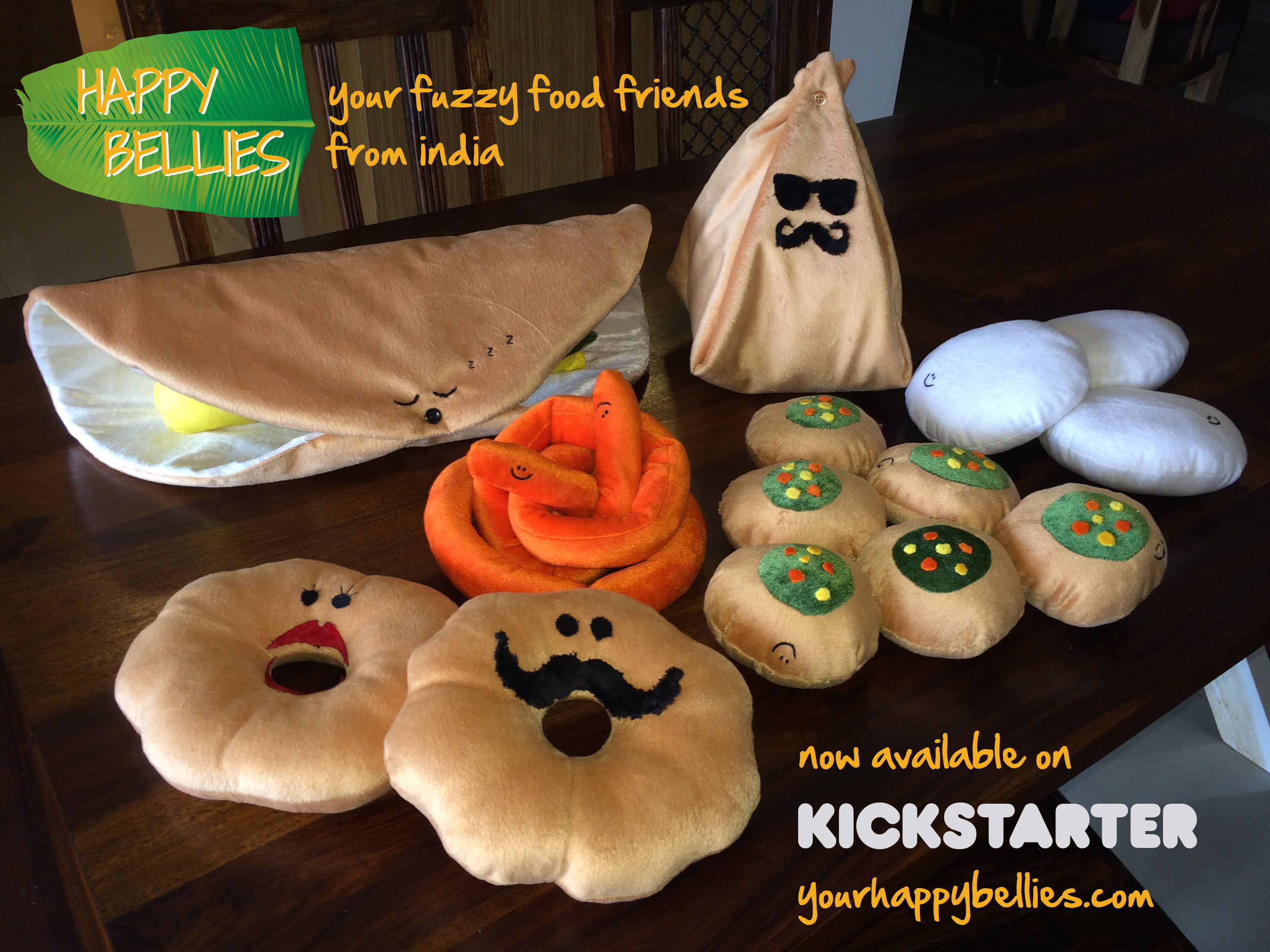 Five years ago, as I was transitioning from technology designer to technology disseminator, I participated in IDDS 2010 in Fort Collins, a design summit that focused exclusively on dissemination. Just one year after IDDS, I teamed up with D-Lab alumna Diana Jue to start Essmart, a technology dissemination enterprise based in southern India. We've been working there for over three years, have over 65 different life-improving technologies in our catalogue, have distributed over 12,000 products, and have over 40 people employed in India. Essmart has had several new developments that we're excited to share with the IDIN family.
Stuffed toys shaped like Indian foods
We're in the business of technology distribution, but today (October 5), Essmart is launching its own new, fun, creative product line: stuffed toys shaped like Indian foods! Happy Bellies are your fuzzy food friends from India. They are huggable sized Indian foods made from soft, fuzzy fabric. It's all the fun of hugging Indian foods without any of the food crumbs or grease you'd get from hugging real food.
Each Happy Belly character has its own character, complete with a personality and a history. Additionally, each Happy Belly comes with information on the real food, including where it's from, how it's made, what ingredients are used, and more. Since India is made of many different regions with many different regional foods, each Happy Belly is part of a crew. The Breakfast Club consists of the Dozing Dosa, 'Lil Idlies, and Auntie & Uncle Vada; The Street Gang consists of the Superstar Samosa, Jolly Jalebi, and The Pani Puris. If all goes well, we have several crews in the pipeline to add to the mix.
Happy Bellies are now available on Kickstarter, and all proceeds from the toys will go to supporting Essmart's work. It's an improved version of the buy-one give-one model: buy one Happy Belly, give directly to a scalable, sustainable model working in rural Indian villages.
Market research to help designers better commercialize their prototypes
As a disseminator of many different socially impactful technologies, Essmart has learned a lot about why products do or do not get adopted by end customers. In the past few months, we've started to use our network of over 1,000 mom-and-pop shops to run experiments that help product designers better commercialize their prototypes.
For example, you may have a late-stage prototype, but you don't know what the retail price should be, especially in a rural market that you've never learned about. Essmart will place the product in several shops in our network and vary the price point across the different shops. This allows us to collect data on the best retail price not only based on surveys but also based on real end customer inquiries and purchases. We've run experiments like these for determining retail prices, the ideal warranty offering, which marketing messages are the most effective, what the packaging should look like, and more.
We're excited to announce that IDIN Network member Daniel Mokrauer-Madden has joined us full time as Essmart's Director of Research, and leads the structuring and running these experiments. If Essmart can help you get the market feedback that you need to better commercialize your product, please be in touch at testing@essmart-global.com.
Developing a low-cost headlamp
A main source of new products for Essmart's catalogue is our customers, who often request certain products that fulfill their wants and needs. The most commonly requested product is a low-cost rechargeable headlamp. This is a product that is very useful for farmers who desire a headlamp to assist with picking crops, a task that requires the use of both hands and occurs in the dark before sunrise.
Essmart has been searching for a headlamp that meets our customers' desired specifications, but so far we have not been able to find one. Current headlamp options either are too expensive and not optimized for brightness (such as camping headlamps), or are very cheap but will break after two to three months. Essmart's customers want a mid range rechargeable headlamp that will last them longer but is still affordable.
We are teaming up with mechanical engineer and IDIN Network member Aron Zingman to design a product that meets our customers' needs. Aron (aron@wedesignpsych.com) would be happy to have the support from IDIN members on the EE design of the charging circuit and LED driver circuit.