JustMilk Team Reflects on Growth & Lessons Learned in Anticipation of First Clinical Investigation
blog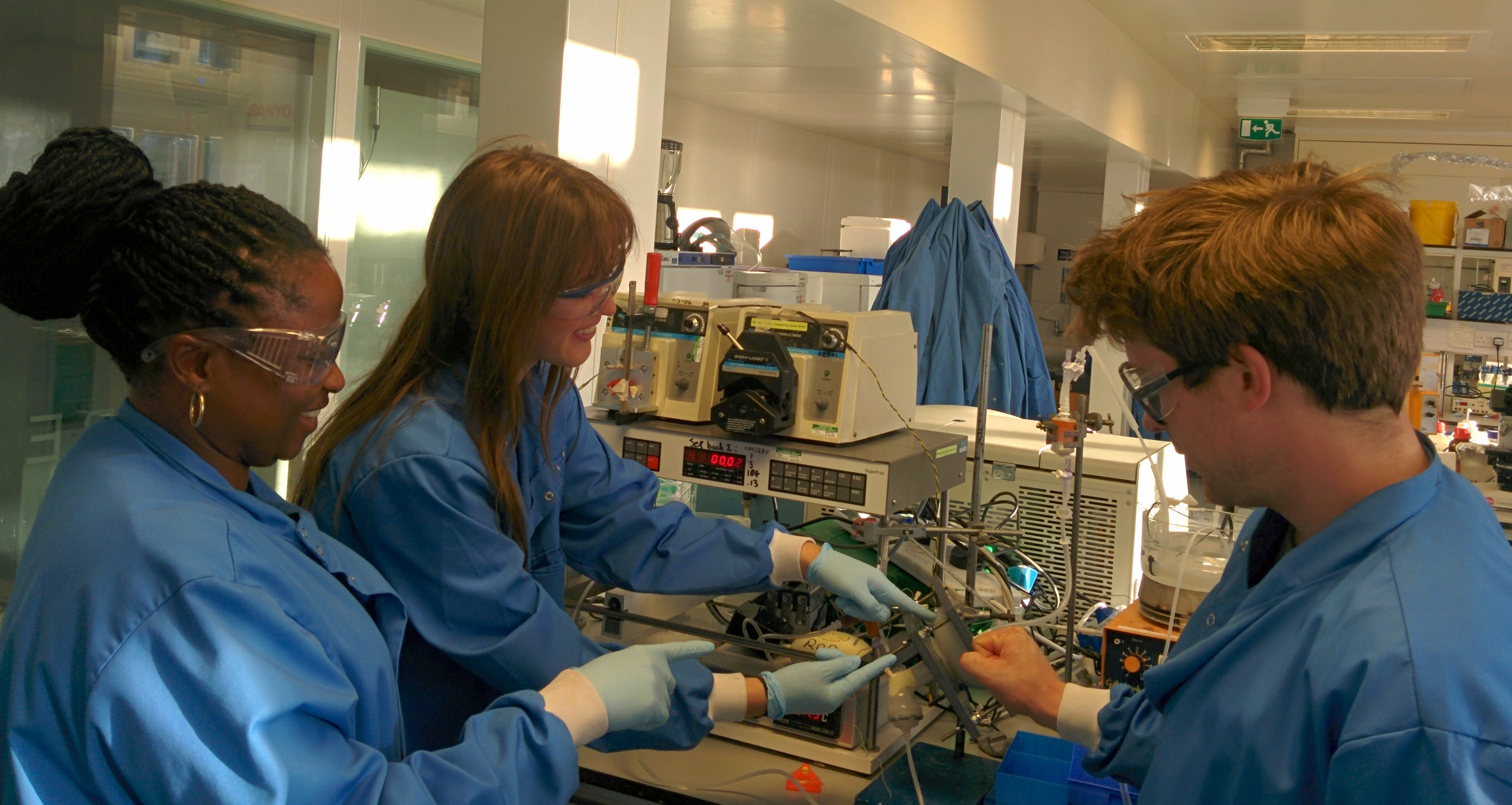 In 2008, an international team at the second-ever International Development Design Summit was given a month to tackle an enormous question: what could we do to prevent mother-to-child transmission of HIV around the globe?
A diverse team dove into the challenge with gusto and the idea of "JustMilk" — a nipple shield that would release antiviral compounds in breast milk to nursing infants — was born.
Today, JustMilk's function as a technology is slightly different than originally intended, but the mission of neonatal health is still at the heart of the project. The device is a thin, disposable nipple shield, modified to hold a tablet, which delivers the medication directly to a baby through breast milk, thus making administering medicine to breastfeeding infants safer, simpler, and more convenient. 
Recently, we caught up with Rebekah Scheuerle and Aspen Flynn, two members of the JustMilk team, to learn more about the still-new nonprofit's journey from a budding idea to viable medical device poised to make a difference for babies (and their mothers) around the globe.
When did the original idea for JustMilk get steam to move forward as a project?   
Rebekah: The technical development really accelerated when (original team member and co-founder of JustMilk) Stephen Gerrard took the original idea as a potential PhD project to the University of Cambridge, which gave him some lab space and time to flesh out the idea.
From there, there was a lot of scientific development and partnership building for the project. For example, the University College London School of Pharmacy became a critical partner in assisting with medication development and characterization. Further, PATH and the University of California Berkeley School of Public Health were instrumental in doing acceptability studies.
A study in Kenya indicated that although mothers thought the idea was plausible and useful, they thought it could be stigmatizing if only used for HIV treatment. Thus they recommended expanding its applications to other types of nutrients and drugs so it would be ambiguous, if a mom was using it, why she was using it, and other moms wouldn't necessarily know if she was sick.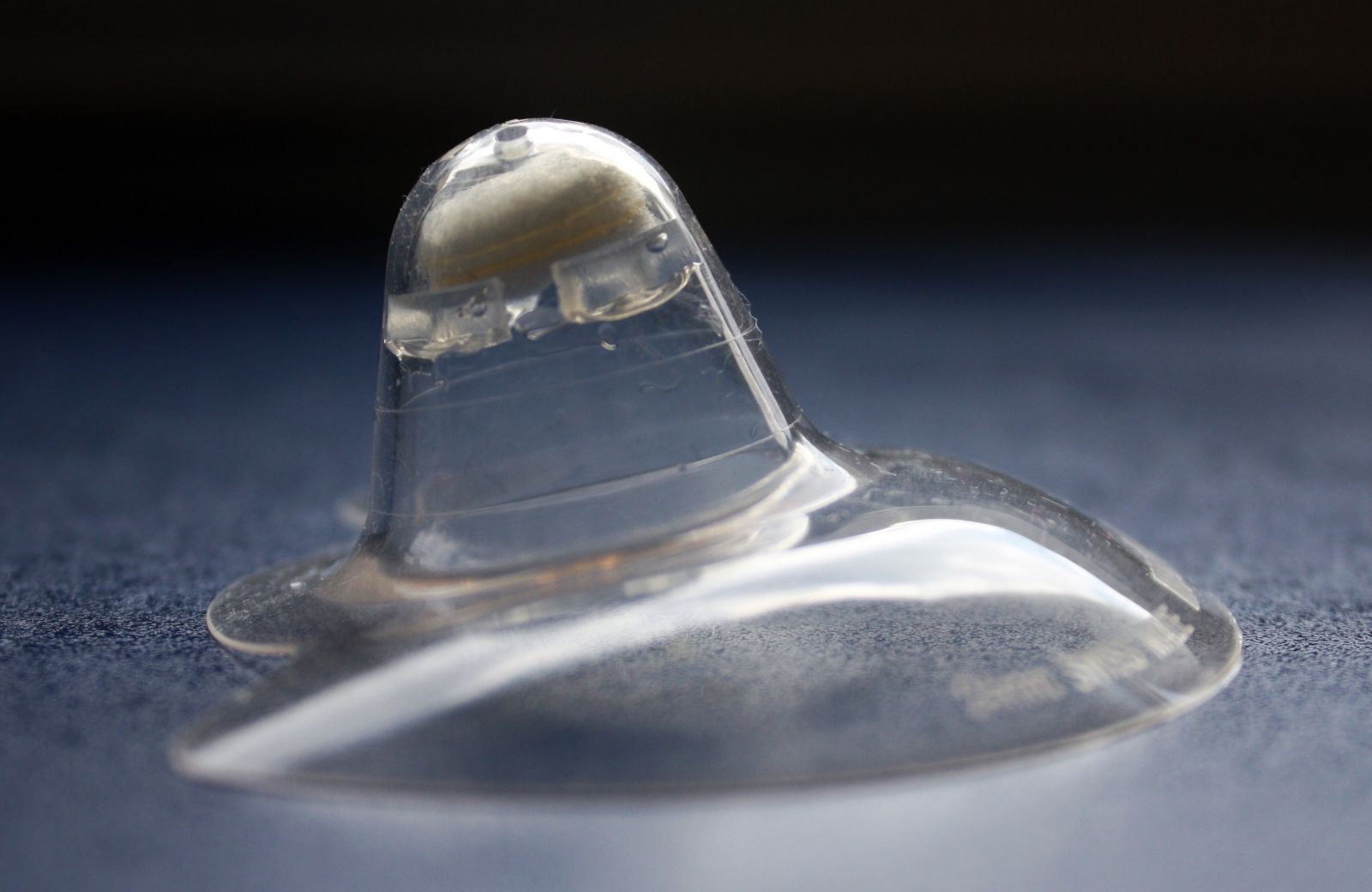 Can you tell me a bit about how the JustMilk technology has changed over the years from a prototype to a product?   
Rebekah: Originally, the prototypes were modified from things that you could buy at the store. Stephen would glue rubber rings or pieces of mesh inside of a nipple shield you could buy off the shelf. These materials could hold a medication in place enough to work with a simulation apparatus, enough to work for proof of concept studies. Following from that, we were able to manufacture a "looks-like prototype," which is useful when talking to people about the idea and getting feedback.
Breastfeeding as a process has never been modeled in a lab, so we work hard on method to development to characterize how well the device works. The evolution of the prototype corresponded with the evolution of the breastfeeding simulation tests, and these tests have gotten more rigorous alongside the prototype over time.
What did you learn about your product in the simulation studies?
Rebekah: Based on these studies, we are able to get a design ideas for models that can be injection molded in one piece. Aspen and I used one in an acceptability study she was leading in South Africa.
That was really helpful because we were able to ask mothers about what they thought about the appearance, the texture, the size, and other user-oriented questions to determine if there would be stigma related to the physical appearance.
Now we're looking into different materials for that injection molding. It's important before doing a clinical investigation that the material is safe, for example, for babies to suck on or for mothers to have against their skin. We're making our first prototype of a version that can be used in a clinic over the next few months so we can — for the first time — test our device with mothers and babies.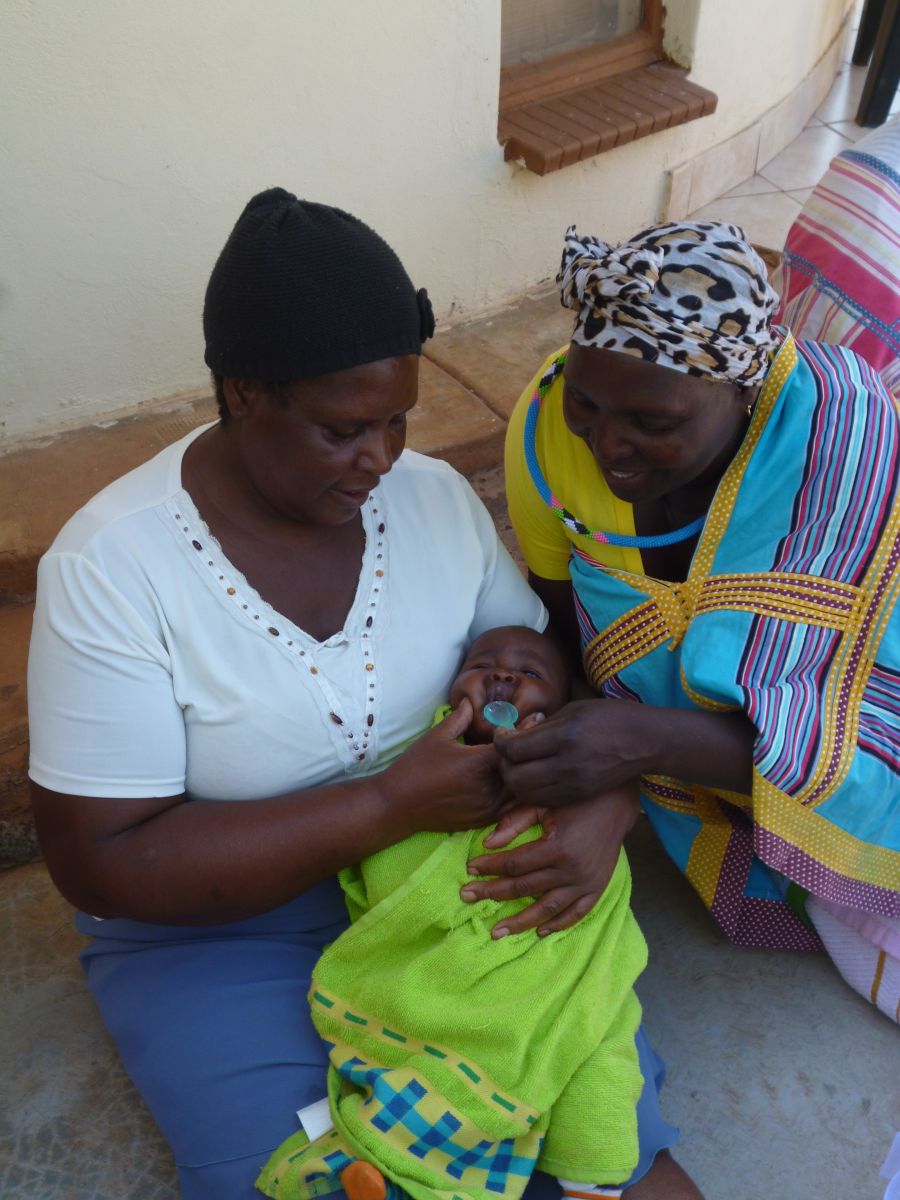 That's so exciting! What did you learn from mothers as a part of the acceptability study? Any surprises?
Aspen: I moved to South Africa in early 2014 and stayed there for nine months. I built a relationship with the University of Venda and worked with them to gain user feedback on our device. We want to see if we could make the device more human-centered and make sure it was culturally-acceptable within the area, and also to understand the need – could JustMilk be a platform technology to deliver many different types of medication? Was that viable? I talked to moms and community elders, spent a lot of time in clinics and gathered information. I was there to just learn about their experiences in giving babies medicine.
One thing I found really surprising was dosing challenges. The main way that a lot of these moms give their babies medication is via this spoon given to them by the clinic where the line to give the proper dosage is very faint. Half the time, the clinic runs out of these spoons and most moms just then use a teaspoon, which is a different size. Even if the clinic does give the spoon, moms often default to the teaspoon or pouring the medication into the top of the bottle, which isn't exact.
We didn't realize that these things were happening. And so the first thing that the majority of participants said is that they liked the device because it was a pre-dosed medication that because it was incorporated into breast-feeding, would go down a lot easier. We didn't even realize that was a benefit of our device.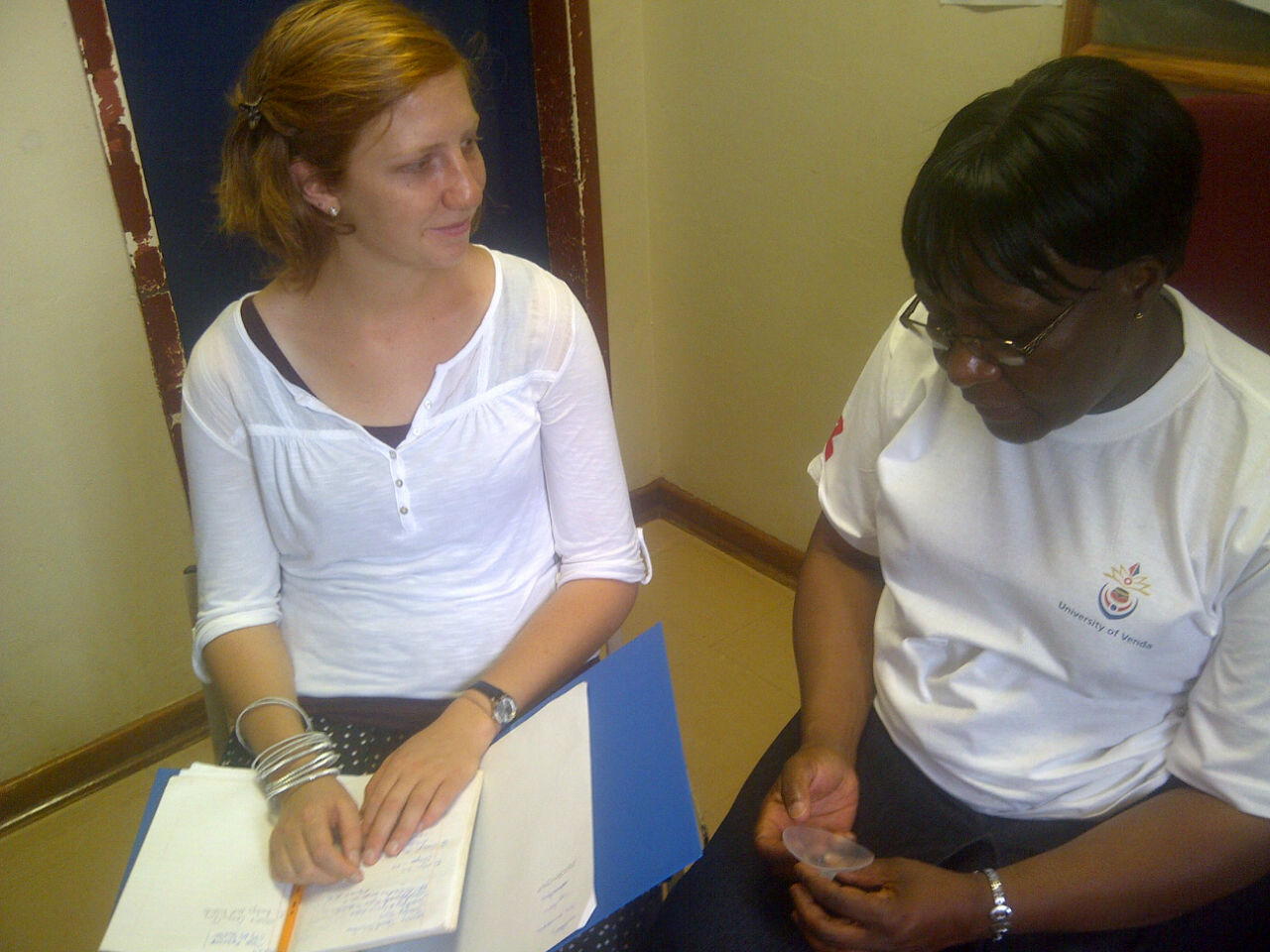 Reflecting on the tremendous value JustMilk could provide in this space, what has been your experience with patents? Is the JustMilk device patented?
 Aspen: Yes, we've been working on protecting the space around our device because one of the things we want to find is a pharmaceutical partner that has the same philanthropic perspective as we do. We were really lucky to connect with a pro-bono intellectual property attorney in late 2015, and we've been working with her, which has been amazing.
We spend a lot of time and energy on intellectual property because we're looking to engage with these large companies and the device could potentially have applications in Western markets. Both of those things bring up the danger of people taking our idea and making a lot of money off of it or using it with end users that we didn't intend to be our ideal end users.
Rebekah: In the medical device space, another huge benefit of having intellectual property for our organization has been in cases where we've been pitching the idea. The first question is always "Do you have IP?"
It's so critical and legitimizes our work, even with small grant applications and the like. These types of things, even "patent pending," in the business world…are taken more seriously.
When did JustMilk cross the line from a project to a business? What did that process look like for your team?
Aspen: Before 2013, JustMilk was a loose collaboration between many institutions in several different countries. Stephen Gerrard and Geoff Galgon from the original team continued to work on the project, but anytime they wanted to do something for the project it had to go through these other institutions, which resulted in a lot of red tape.
They decided to make a JustMilk entity to centralize all of the activities for the projects. That's where I got involved. I was a student at University of California, Berkeley and with the help of free incorporation resources offered by our law school, so I became the leader of leading "JustMilk, the project" to become "JustMilk, the nonprofit entity."
Since then we've had more control over the day-to-day activities of JustMilk, the project. We've also been able to do a lot of business development and have learned a lot about how important your business side to your project is. We all come from an engineering or science background, and it hadn't been clear to us before we started to work as an incorporated entity just how important all of the business aspects were.
How is JustMilk thinking about sustainability, both in the short-term and long-term? Have you run into any challenges?
Rebekah: Over the course of the project, several grants were awarded to the project from the institutions like the Clinton Global Initiative and the Grand Challenges Saving Lives at Birth scheme. When we received a seed grant from the latter of $250,000, I started on the project based on my interest in using engineering for development purposes as a PhD student. Around the same time, we got involved in the accelerator program at the Cambridge Judge Business School. We've gotten a lot of valuable support from them.
As an entity that is US-based, we've had challenges with funding and also with patents of course. Having a basic understanding of how to work as an international organization and understanding business opportunities enhanced our model outside of our context as a California-based nonprofit.
Myself and Cambridge colleague, Theresa Maier ended up forming a limited company, which has increased our opportunities in the United Kingdom to access other types of grant funding. It also gives us the opportunity to look at the project not just for the purposes of low-resource settings, but also for potential commercial applications in Western markets, with that being attractive because it could raise funding that could fuel our nonprofit mission.
We realize that the long-term success of the project will depend on our successful partnership with a pharmaceutical company, which would make the medicines that go in the device that we've been characterizing and developing. Depending on the missions of those pharmaceutical companies, a potential revenue stream in a Western market along with a social application in a low-resource setting could be an attractive model. So having a venture with a limited company for-profit side in combination with a nonprofit, maximizes the ability to acquire funding, not just from companies and grants, but also from individuals or venture capitalists.
What have been some of JustMilk's biggest challenges so far?
Aspen: One is finding a suitable pharmaceutical partner that has a philanthropic mindset. We've gotten a lot of interest from people we wouldn't necessarily work with. Making sure that everyone in the organization is on the same page about what you want from a partner is also critical. Oftentimes there can be different perspectives on that.
Another one is having a business mindset as an organization. We all have an empirical background, which leads us to think that you run tests, find answers, and only then can you move onto the next step. In some ways, that's been really helpful for us for developing a medical device when you need to be extraordinarily cautious, but when it comes to making business decisions, no one has been celebrated for business acumen because they are extraordinarily cautious. You're celebrated because you are taking calculated risk and trying things out to see what sticks. We've gotten more business input over time, and we've been encouraged to think bigger and not just think safe.
And on the flip side, what are you really excited to see in JustMilk's future?
Aspen: We're really enthusiastic about the clinical investigation which is led by Cambridge PhD student, Theresa Maier. Seeing how the JustMilk device actually works on a human is such a milestone. It has come from this idea in a room in 2008 to using it on a person, and we're just going to learn so much the first time a mom puts it on her breast, we're going to learn so many things.
Further more, we are very excited to have just been accepted into CamTECH's pilot accelerator, which will provide us with $25K of further grant funding, additional venture support, and a useful network of medical innovators.
When we started the nonprofit in 2013, we had many ideas. We started to centralize the JustMilk activities, to have everything running from one command center, but also had dreams of expanding the non-profit to not just this one device, but to supporting developing other medical technologies in general, and also to potentially run additional campaigns. The non-profit allows us to think of some of the tangential things we might be able to do to support the overall vision of improving newborn health. JustMilk could be about so much more than supporting just the use of one technology.
Interested in contacting the JustMilk team? You can learn more about JustMilk's work by visiting their website or writing contactus@justmilk.org.