IDIN's India Chapter Holds Event to bring IDDS Experience to Wider University
blog
Tuesday, September 29, 2015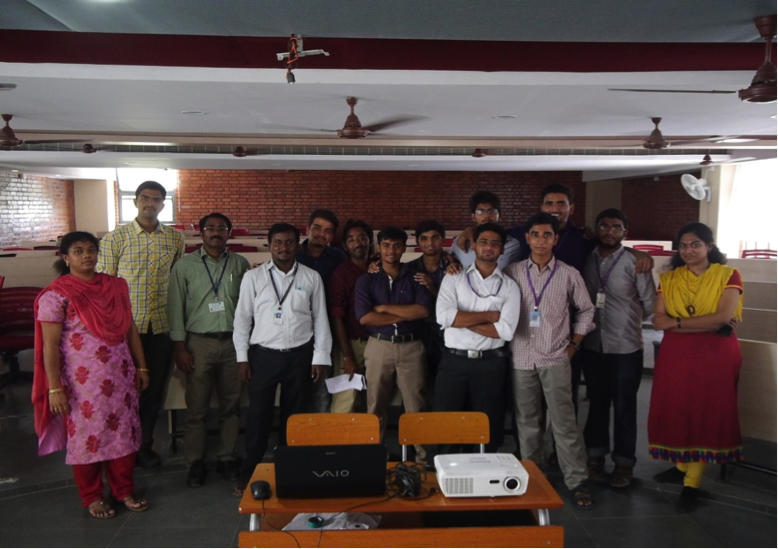 This fall, the IDIN India chapter organized an event to share their IDDS Aarogyam experience with the greater BS Abdur Rahman University community. Faculty and students together shared their experience of problem identification, idea generation, co-creation, and prototyping with just over 100 participants.
IDIN Network member and Assistant Professor in Mechanical Engineering Surya Rajan welcomed the attendees and shared inspiring examples of local innovation, speaking to the crowd about Prajapati M. Raghavjibhai, the inventor of Mitticool, a clay refrigerator that runs without electricity and keeps perishable food fresh for up to a week.
The next session was by IDIN Network member and Assistant Professor in Mechanical Engineering Arockia Julias who explained in detail the role of students in innovation and identifying problems. He shared his experience on his visit to a nearby village, Manampathy, during this summer's design summit in Chennai. He explained about his visit to the houses and workplaces in that village and his interaction with them as one of their family members. He stressed importance of practicing empathy, not sympathy when doing design for development. 
IDIN Network members and third year Mechanical Engineering student Hafizur Rahman and Guru Ganesan addressed different methods of problem identification and introduced the attendees to an activity called, "Observe, Ask, Try," with case studies from their experience in IDDS.
Next, IDIN Network member Mohammed Rayyan introduced idea generation as a concept.  He explained in detail about the task of searching for something which is unidentified and unattended as a problem and which has a big impact on the society. Rayyan then asked the participants to brainstorm to solutions to a real hazard experienced recently at B.S. Abdur Rahman University: "How can we prevent drowning of people in rivers or other bodies of water when huge amount of water is released from the dam or during floods?" IDIN Network members Shabeeruddin Hussain and Krishna Preethi helped coordinate the activity.
Participants were divided into ten teams and each team was mentored by an IDIN Network member. Teams brainstormed for 10 minutes and finalized some innovative ideas to address the issue. Teams were asked to present their ideas.
Finally, IDIN Network members Goushik Abdur Rahman briefed the audience about co-creation and Thilagarajan and Saravanan Ramesh discussed the basics of rapid prototyping.  Even though the workshop was planned for two hours, the students were so involved and engaged in the activities that the program went an hour later than planned.